A Search for Lasting Peace: Ending South Sudan's Devastating Conflict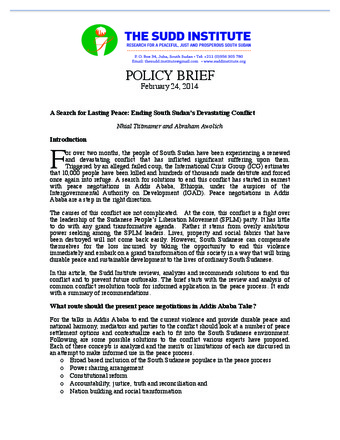 Authors: Abraham Awolich, Nhial Tiitmamer
Organization: The Sudd Institute
Type: Policy Briefs
Date: 24/02/2014
Publication Summary
For over two months, the people of South Sudan have been experiencing a renewed and devastating conflict that has inflicted significant suffering upon them.  Triggered by an alleged failed coup, the International Crisis Group (ICG) estimates that 10,000 people have been killed and hundreds of thousands made destitute and forced once again into refuge. A search for solutions to end this conflict has started in earnest with peace negotiations in Addis Ababa, Ethiopia, under the auspices of the Intergovernmental Authority on Development (IGAD). Peace negotiations in Addis Ababa are a step in the right direction.
The causes of this conflict are not complicated.   At the core, this conflict is a fight over the leadership of the Sudanese People's Liberation Movement (SPLM) party. It has little to do with any grand transformative agenda.  Rather it stems from overly ambitious power seeking among the SPLM leaders. Lives, property and social fabrics that have been destroyed will not come back easily. However, South Sudanese can compensate themselves for the loss incurred by taking the opportunity to end this violence immediately and embark on a grand transformation of this society in a way that will bring durable peace and sustainable development to the lives of ordinary South Sudanese.
In this article, the Sudd Institute reviews, analyzes and recommends solutions to end this conflict and to prevent future outbreaks. The brief starts with the review and analysis of common conflict resolution tools for informed application in the peace process. It ends with a summary of recommendations.
Abraham Awolich is the Managing Director the Sudd Institute. Awolich's research has focused on management of development organizations working in conflict mitigation, governance and business management. Awolich is the co-founder of the Sudan Development Foundation and the former Executive Director of New Sudan Education Initiative (NESEI). Previous to joining the Sudd Institute, Awolich helped establish a secondary school in Yei and a medical clinic in Kalthok, Awerial County. Awolich has a Master's Degree in Pubic Administration from the Maxwell School of Citizenship and Public Affairs at Syracuse University and Bachelor's Degree from the University of Vermont in Anthropology and Business Administration. Awolich is a McNair Scholar and winner of the prestigious Samuel Huntington Public Service Award in 2006.
Nhial Tiitmamer is Programme Manager for environmental, energy and natural resources research and as well the Institute's Focal Point on Building Resilience and Adaptation to Climate Extremes and Disasters (BRACED), a climate change resilience program being implemented in South Sudan by a consortium composed of The Sudd Institute and five international organizations. Nhial holds a Bachelor's Degree and a Master of Science in Environmental Studies and Sustainable Energy from the Universities of Alberta and Calgary in Canada where he spent stints as an environmental consultant and research associate in environmental studies. Nhial is the co-founder of the NewSudanVision.com and has extensively commented and written on issues about South Sudan.