The State of the South Sudanese National Unity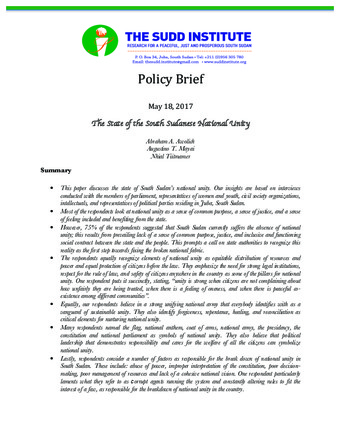 Authors: Abraham Awolich, Nhial Tiitmamer, Augustino Ting Mayai
Type: Policy Briefs
Date: 18/05/2017
Publication Summary
This paper discusses the state of South Sudan's national unity. Our insights are based on interviews conducted with members of parliament, representatives of women and youth, civil society organizations, intellectuals, and representatives of political parties residing in Juba, South Sudan.
Most of the respondents look at national unity as a sense of common purpose, a sense of justice, and a sense of feeling included and benefiting from the state.
However, 75% of the respondents suggested that South Sudan currently suffers the absence of national unity; this results from prevailing lack of a sense of common purpose, justice, and inclusive and functioning social contract between the state and the people. This prompts a call on state authorities to recognize this reality as the first step towards fixing the broken national fabric.
The respondents equally recognize elements of national unity as equitable distribution of resources and power and equal protection of citizens before the law. They emphasize the need for strong legal institutions, respect for the rule of law, and safety of citizens anywhere in the country as some of the pillars for national unity. One respondent puts it succinctly, stating, "unity is strong when citizens are not complaining about how unfairly they are being treated when there is a feeling of oneness, and when there is peaceful co-existence among different communities".
Equally, our respondents believe in a strong unifying national army that everybody identifies with as a vanguard of sustainable unity. They also identify forgiveness, repentance, healing, and reconciliation as critical elements for nurturing national unity.
Many respondents named the flag, national anthem, coat of arms, national army, the presidency, the constitution and national parliament as symbols of national unity. They also believe that political leadership that demonstrates responsibility and cares for the welfare of all the citizens can symbolize national unity.
Lastly, respondents consider a number of factors as responsible for the breakdown of national unity in South Sudan. These include abuse of power, improper interpretation of the constitution, poor decision-making, poor management of resources and lack of a cohesive national vision. One respondent particularly laments what they refer to as corrupt agents running the system and constantly altering rules to fit the interest of a few, as responsible for the breakdown of national unity in the country.
Abraham Awolich is the Managing Director of the Sudd Institute. Awolich's research has focused on management of development organizations working in conflict mitigation, governance and business management. Awolich is the co-founder of the Sudan Development Foundation and the former Executive Director of New Sudan Education Initiative (NESEI). Previous to joining the Sudd Institute, Awolich helped establish a secondary school in Yei and a medical clinic in Kalthok, Awerial County. Awolich has a Master's Degree in Pubic Administration from the Maxwell School of Citizenship and Public Affairs at Syracuse University and Bachelor's Degree from the University of Vermont in Anthropology and Business Administration. Awolich is a McNair Scholar and winner of the prestigious Samuel Huntington Public Service Award in 2006.
Nhial Tiitmamer is the Director of the Environmental and Natural Resources Program at the Sudd Institute and a part-time lecturer at the University of Juba. Before joining The Sudd Institute in 2013, Nhial spent research and consulting stints at Arletta Environmental Consulting in Calgary and at the University of Alberta in Canada. Nhial holds a B.A. in Environmental Studies with a minor in English Literature from the University of Alberta's Augustana Campus and an M.Sc. in Sustainable Energy Development from the University of Calgary in Alberta, Canada. Nhial is the co-founder of the NewSudanVision.com and has extensively commented and written on issues about South Sudan and Sudan.
Augustino Ting Mayai's Biography
Augustino Ting Mayai is the Director of Research at the Sudd Institute. He holds a Ph.D. in Sociology, with concentrations on demography and development from the University of Wisconsin-Madison. He currently studies how state effectiveness affects child health outcomes in South Sudan and Ethiopia. Dr. Mayai has written extensively on South Sudan's current affairs.