The Call for Merger of the National Dialogue and HLRF Processes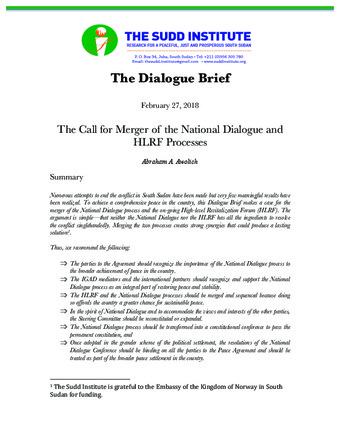 Author: Abraham Awolich
Type: Dialogue briefs
Date: 27/02/2018
Publication Summary
Numerous attempts to end the conflict in South Sudan have been made but very few meaningful results have been realized. To achieve a comprehensive peace in the country, this Dialogue Brief makes a case for the merger of the National Dialogue process and the on-going High-level Revitalization Forum (HLRF). The argument is simple—that neither the National Dialogue nor the HLRF has all the ingredients to resolve the conflict singlehandedly. Merging the two processes creates strong synergies that could produce a lasting solution.
Thus, we recommend the following:
The parties to the Agreement should recognize the importance of the National Dialogue process to the broader achievement of peace in the country.
  The IGAD mediators and the international partners should recognize and support the National Dialogue process as an integral part of restoring peace and stability.
   The HLRF and the National Dialogue processes should be merged and sequenced because doing so affords the country a greater chance for sustainable peace.
   In the spirit of National Dialogue and to accommodate the views and interests of the other parties, the Steering Committee should be reconstituted or expanded.
   The National Dialogue process should be transformed into a constitutional conference to pass the permanent constitution, and
   Once adopted in the grander scheme of the political settlement, the resolutions of the National Dialogue Conference should be binding on all the parties to the Peace Agreement and should be treated as part of the broader peace settlement in the country.
Abraham Awolich is the former Managing Director of the Sudd Institute. Awolich's research has focused on management of development organizations working in conflict mitigation, governance and business management. Awolich is the co-founder of the Sudan Development Foundation and the former Executive Director of New Sudan Education Initiative (NESEI). Previous to joining the Sudd Institute, Awolich helped establish a secondary school in Yei and a medical clinic in Kalthok, Awerial County. Awolich has a Master's Degree in Pubic Administration from the Maxwell School of Citizenship and Public Affairs at Syracuse University and Bachelor's Degree from the University of Vermont in Anthropology and Business Administration. Awolich is a McNair Scholar and winner of the prestigious Samuel Huntington Public Service Award in 2006.