Climate Change and Conflicts in South Sudan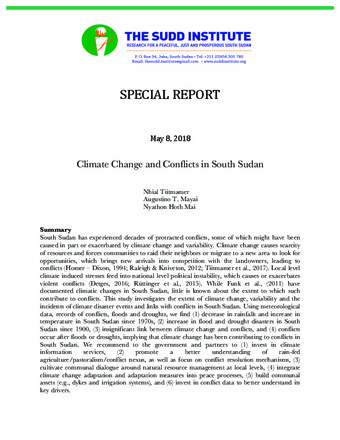 Authors: Nyathon Hoth Mai, Nhial Tiitmamer, Augustino Ting Mayai
Organization: The Sudd Institute
Type: Special Reports
Date: 10/05/2018
Publication Summary
South Sudan has experienced decades of protracted conflicts, some of which might have been caused in part or exacerbated by climate change and variability. Climate change causes scarcity of resources and forces communities to raid their neighbors or migrate to a new area to look for opportunities, which brings new arrivals into competition with the landowners, leading to conflicts (Homer – Dixon, 1994; Raleigh & Kniveton, 2012; Tiitmamer et al., 2017). Local level climate induced stresses feed into national level political instability, which causes or exacerbates violent conflicts (Detges, 2016; Rüttinger et al., 2015). While Funk et al., (2011) have documented climatic changes in South Sudan, little is known about the extent to which such contribute to conflicts. This study investigates the extent of climate change, variability and the incidents of climate disaster events and links with conflicts in South Sudan. Using meteorological data, records of conflicts, floods and droughts, we find (1) decrease in rainfalls and increase in temperature in South Sudan since 1970s, (2) increase in flood and drought disasters in South Sudan since 1900, (3) insignificant link between climate change and conflicts, and (4) conflicts occur after floods or droughts, implying that climate change has been contributing to conflicts in South Sudan. We recommend to the government and partners to (1) invest in climate information services, (2) promote a better understanding of rain-fed agriculture/pastoralism/conflict nexus, as well as focus on conflict resolution mechanisms, (3) cultivate communal dialogue around natural resource management at local levels, (4) integrate climate change adaptation and adaptation measures into peace processes, (5) build communal assets (e.g., dykes and irrigation systems), and (6) invest in conflict data to better understand its key drivers.
Nyathon Hoth Mai is Environment and Natural Resources Program Officer at the Sudd Institute. Before joining the Institute full time, Nyathon worked as Research Associate between Oct 2015 and Jan 2019. She has a BSc in Geology from the Federation University, Australia, and an MSc in Global Energy and Climate Policy from the School of Oriental and African Studies (SOAS), University of London. She is also an independent Researcher and policy analyst. Her research interest areas include Geology, climate change and energy policy, and issues affecting South Sudanese women. In addition, Nyathon was the Co-founder and Managing Director of My Referendum for Freedom (MRF) that actively engaged the South Sudanese youth from all over South Sudan and diaspora as a vehicle for civic education to the rest of the populace during the South Sudan Referendum. She also devoted much of her time to South Sudan community development in Australia.
Nhial Tiitmamer is the Director of the Environmental and Natural Resources Program at the Sudd Institute and a part-time lecturer at the University of Juba. Before joining The Sudd Institute in 2013, Nhial spent research and consulting stints at Arletta Environmental Consulting in Calgary and at the University of Alberta in Canada. Nhial holds a B.A. in Environmental Studies with a minor in English Literature from the University of Alberta's Augustana Campus and an M.Sc. in Sustainable Energy Development from the University of Calgary in Alberta, Canada. Nhial is the co-founder of the NewSudanVision.com and has extensively commented and written on issues about South Sudan and Sudan.
Augustino Ting Mayai's Biography
Augustino Ting Mayai is the Managing Director of the Sudd Institute. He is a founding Research Director of the same institution, serving in this capacity for a decade. He holds a Ph.D. in Sociology, with concentrations on demography and development from the University of Wisconsin-Madison. He currently studies how state effectiveness affects child health outcomes in South Sudan and Ethiopia. Dr. Mayai has written extensively on South Sudan's current affairs.