Climate Change and Gender in South Sudan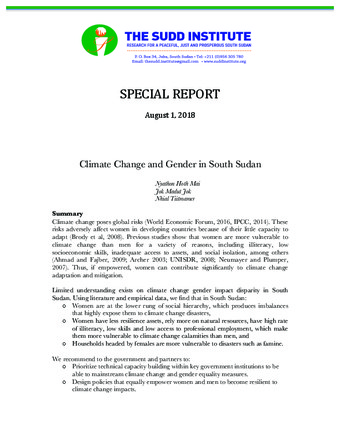 Authors: Nyathon Hoth Mai, Jok Madut Jok, Nhial Tiitmamer
Organization: The Sudd Institute
Type: Special Reports
Date: 01/08/2018
Publication Summary
Climate change poses global risks (World Economic Forum, 2016, IPCC, 2014). These risks adversely affect women in developing countries because of their little capacity to adapt (Brody et al, 2008). Previous studies show that women are more vulnerable to climate change than men for a variety of reasons, including illiteracy, low socioeconomic skills, inadequate access to assets, and social isolation, among others (Ahmad and Fajber, 2009; Archer 2003; UNISDR, 2008; Neumayer and Plumper, 2007). Thus, if empowered, women can contribute significantly to climate change adaptation and mitigation.
Limited understanding exists on climate change gender impact disparity in South Sudan. Using literature and empirical data, we find that in South Sudan:
Women are at the lower rung of social hierarchy, which produces imbalances that highly expose them to climate change disasters,
Women have less resilience assets, rely more on natural resources, have high rate of illiteracy, low skills and low access to professional employment, which make them more vulnerable to climate change calamities than men, and
Households headed by females are more vulnerable to disasters such as famine.
We recommend to the government and partners to:
Prioritize technical capacity building within key government institutions to be able to mainstream climate change and gender equality measures.
Design policies that equally empower women and men to become resilient to climate change impacts.
Build climate data infrastructure to inform gender equality and climate change policies and plans.
Nyathon Hoth Mai is Environment and Natural Resources Program Officer at the Sudd Institute. Before joining the Institute full time, Nyathon worked as Research Associate between Oct 2015 and Jan 2019. She has a BSc in Geology from the Federation University, Australia, and an MSc in Global Energy and Climate Policy from the School of Oriental and African Studies (SOAS), University of London. She is also an independent Researcher and policy analyst. Her research interest areas include Geology, climate change and energy policy, and issues affecting South Sudanese women. In addition, Nyathon was the Co-founder and Managing Director of My Referendum for Freedom (MRF) that actively engaged the South Sudanese youth from all over South Sudan and diaspora as a vehicle for civic education to the rest of the populace during the South Sudan Referendum. She also devoted much of her time to South Sudan community development in Australia.
Jok Madut Jok is trained in the anthropology of health and holds a Ph.D. from the University of California, Los Angeles (UCLA). He is a fellow of Rift Valley Institute and Director of the Sudd Institute. Jok has held fellowship positions at a number of other institutions, including the United States Institute of Peace and the Woodrow Wilson International Center for Scholars. He also served in the Government of South Sudan as undersecretary in the Ministry of Culture and Heritage for three years. He has also worked in aid and development and author of four books and numerous articles covering gender, sexuality and reproductive health, humanitarian aid, ethnography of political violence, gender-based violence, war and slavery, and the politics of identity in South Sudan and Sudan. His book Breaking Sudan: The Search for Peace, was published in 2017 by OneWorld.
Nhial Tiitmamer is the Director of the Environmental and Natural Resources Program at the Sudd Institute and a part-time lecturer at the University of Juba. Before joining The Sudd Institute in 2013, Nhial spent research and consulting stints at Arletta Environmental Consulting in Calgary and at the University of Alberta in Canada. Nhial holds a B.A. in Environmental Studies with a minor in English Literature from the University of Alberta's Augustana Campus and an M.Sc. in Sustainable Energy Development from the University of Calgary in Alberta, Canada. Nhial is the co-founder of the NewSudanVision.com and has extensively commented and written on issues about South Sudan and Sudan.