Transitioning to Renewable Energy: An Analysis of Energy Situation in Juba, South Sudan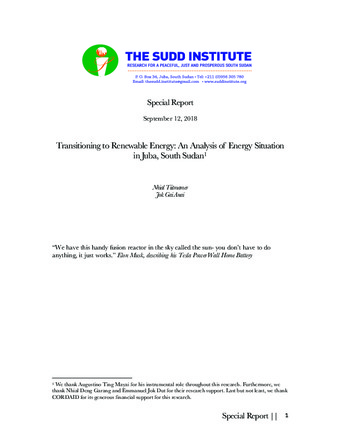 Authors: Jok Gai Anai, Nhial Tiitmamer
Type: Special Reports
Date: 27/11/2018
Publication Summary
 South Sudan faces a serious energy crisis due to a number of factors, including devastating conflicts (e.g. 1955-172, 1983-2005 & 2013–present) and reliance on the fossil fuel source. The country has the lowest energy consumption rate in Africa and the highest cost of producing energy (World Bank, 2016). Juba, the capital, has between 5,000 and 10,000 diesel powered generators that are inefficient and have detrimental impacts on people's health and environment (Ministry of Environment, 2014). South Sudan Electricity Corporation (SSEC) has an installed power capacity of 30 MW but most of it is not operational due to technical problems and fuel shortage. 
This paper updates empirical evidence on energy access in Juba, with the view of informing a possible transition to renewable sources. We conducted a comprehensive literature review and a survey of 267 households and institutions in 4 administrative units of Juba. We selected the respondents randomly with the sampling technique based on Krejchie and Morgan's (1970) sampling frame. 
Key findings 
First, the number of households and institutions with access to electricity increased from 63% in 2013 to 67% in 2017 (Deng, 2013). However, 82.77% of these respondents are not satisfied with the available electricity source. 
Second, following the shutdown of Juba power station in 2015, electricity in Juba has either been self-generated or supplied from neighboring households and independent power producers (IPPs). A little over forty-seven percent (47.57%) of the respondents generate their own power and 36.33% get power through the neighborhood mini-grids. 
Third, a higher number of households in Juba have installed solar power than households who have installed diesel-powered generators. For example, solar installation has increased from 27% in 2013 to 34.33% in 2017 compared to the installation of diesel-powered generators which have decreased from 36% in 2013 to 30.85% in 2017. Increase in solar installation and a decrease in diesel-powered generators are attributed to the fuel crisis, which has forced households to resort to clean energy to save costs. In addition, more institutions use diesel-powered generators compared to households. For example, 52.46% of the institutions use diesel-powered generators, 16.39% use the solar system and 19.67% have no access to electricity. 
Fourth, charcoal dominates as the leading cooking energy, with 95.52% of the households using it. Only 9.45% use cooking gas and 13.93% use firewood for cooking. 
Last but not least, the driver of energy consumption is income. The higher the income, the higher the consumption. For example, the shutdown of the oil industry in 2012, which is the economic mainstay of the South Sudanese, decreased the acquisition of diesel-powered generators and solar system. Acquisition of the two sources of energy rose in 2013 following the re-opening of the oil industry but went down following the war in December 2013 (see figure 6 for details). Other factors include fuel shortage and high costs, which have forced a considerable number of households to shift to solar.
Policy recommendations 
In response, we recommend the enactment of a micro-generation and decentralized grid policy supported with market-based incentives in the form of the feed-in-tariff program, implemented through a private-public partnership. This could be enforced through a legislation that encourages independent power producers to boost their production and supply of electricity to households and institutions in Juba and other localities across the country. Market-based incentives should be tailored toward meeting the needs of independent power producers to build local power grid networks. Finally, we recommend the provision of energy aid to poor neighborhoods. 
Jok Gai Anai is a visiting researcher at the Sudd Institute. He holds a Bachelor of Engineering in Electrical Engineering from the University of Victoria, British Columbia, Canada. Jok has spent 11 years working in areas of High Voltage Power Transmission Networks & Distribution for Infrastructure and Oil & Gas Projects, Hydro, Renewable Energy, and Entrepreneurship and is also interested in researching the role of energy in development of post conflict states, the case of South Sudan. He is Founder and CEO of Bomatek Electric Ltd (www.bomatekengineering.com), a local engineering firm operating in South Sudan since 2012.
Nhial Tiitmamer is the Director of the Environmental and Natural Resources Program at the Sudd Institute and a part-time lecturer at the University of Juba. Before joining The Sudd Institute in 2013, Nhial spent research and consulting stints at Arletta Environmental Consulting in Calgary and at the University of Alberta in Canada. Nhial holds a B.A. in Environmental Studies with a minor in English Literature from the University of Alberta's Augustana Campus and an M.Sc. in Sustainable Energy Development from the University of Calgary in Alberta, Canada. Nhial is the co-founder of the NewSudanVision.com and has extensively commented and written on issues about South Sudan and Sudan.