The UN Security Council Visits South Sudan: A Symbolic Act of Peace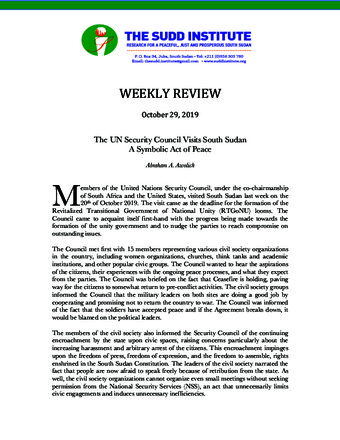 Author: Abraham Awolich
Type: Weekly Reviews
Date: 29/10/2019
Publication Summary
Members of the United Nations Security Council, under the co-chairmanship of South Africa and the United States, visited South Sudan last week on the 20thof October 2019. The visit came as the deadline for the formation of the Revitalized Transitional Government of National Unity (RTGoNU) looms. The Council came to acquaint itself first-hand with the progress being made towards the formation of the unity government and to nudge the parties to reach compromise on outstanding issues.
In light of these developments and the fact that South Africa is the President of the Security Council for the month of October, it is likely that the parties will come under severe regional, continental, and international pressure to form the government on time and to abide by the terms of the Agreement. The parties will not be left alone to wreck the international efforts for peace. This is where the international interest intersects with that of South Sudanese citizens whose single demand has been that of peace and stability. The parties should heed the call for peace, which has come from the citizens and the entire world. A single action, the formation of the government on time, would speak volumes about the willingness of the parties to relieve the country from the burden of war.
Abraham Awolich is the Managing Director of the Sudd Institute. Awolich's research has focused on management of development organizations working in conflict mitigation, governance and business management. Awolich is the co-founder of the Sudan Development Foundation and the former Executive Director of New Sudan Education Initiative (NESEI). Previous to joining the Sudd Institute, Awolich helped establish a secondary school in Yei and a medical clinic in Kalthok, Awerial County. Awolich has a Master's Degree in Pubic Administration from the Maxwell School of Citizenship and Public Affairs at Syracuse University and Bachelor's Degree from the University of Vermont in Anthropology and Business Administration. Awolich is a McNair Scholar and winner of the prestigious Samuel Huntington Public Service Award in 2006.