Economic Policy during the COVID-19 Pandemic in South Sudan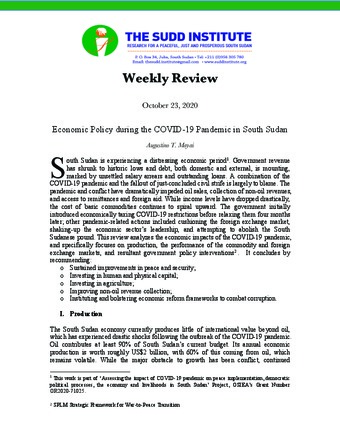 Author: Augustino Ting Mayai
Type: Weekly Reviews
Date: 23/10/2020
Publication Summary
South Sudan is experiencing a distressing economic period. Government revenue has shrunk to historic lows and debt, both domestic and external, is mounting, marked by unsettled salary arrears and outstanding loans. A combination of the COVID-19 pandemic and the fallout of just-concluded civil strife is largely to blame. The pandemic and conflict have dramatically impeded oil sales, collection of non-oil revenues, and access to remittances and foreign aid. While income levels have dropped drastically, the cost of basic commodities continues to spiral upward. The government initially introduced economically taxing COVID-19 restrictions before relaxing them four months later; other pandemic-related actions included cushioning the foreign exchange market, shaking-up the economic sector's leadership, and attempting to abolish the South Sudanese pound. This review analyzes the economic impacts of the COVID-19 pandemic, and specifically focuses on production, the performance of the commodity and foreign exchange markets, and resultant government policy interventions.  It concludes by recommending:
Sustained improvements in peace and security;
Investing in human and physical capital;
Investing in agriculture;
Improving non-oil revenue collection;
Instituting and bolstering economic reform frameworks to combat corruption. 
Augustino Ting Mayai's Biography
Augustino Ting Mayai is the Director of Research at the Sudd Institute. He holds a Ph.D. in Sociology, with concentrations on demography and development from the University of Wisconsin-Madison. He currently studies how state effectiveness affects child health outcomes in South Sudan and Ethiopia. Dr. Mayai has written extensively on South Sudan's current affairs.