The National Dialogue Final Resolutions: What the Presidency should Do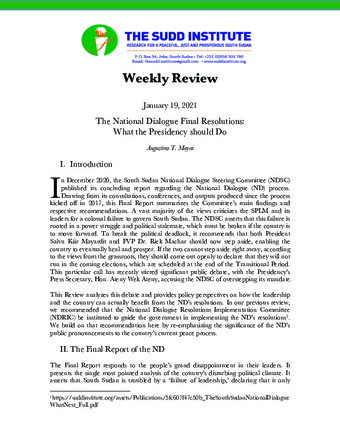 Author: Augustino Ting Mayai
Type: Weekly Reviews
Date: 19/01/2021
Publication Summary
In December 2020, the South Sudan National Dialogue Steering Committee (NDSC) published its concluding report regarding the National Dialogue (ND) process. Drawing from its consultations, conferences, and outputs produced since the process kicked off in 2017, this Final Report summarizes the Committee's main findings and respective recommendations. A vast majority of the views criticizes the SPLM and its leaders for a colossal failure to govern South Sudan. The NDSC asserts that this failure is rooted in a power struggle and political stalemate, which must be broken if the country is to move forward. To break the political deadlock, it recommends that both President Salva Kiir Mayardit and FVP Dr. Riek Machar should now step aside, enabling the country to eventually heal and prosper. If the two cannot step aside right away, according to the views from the grassroots, they should come out openly to declare that they will not run in the coming elections, which are scheduled at the end of the Transitional Period.  This particular call has recently stirred significant public debate, with the Presidency's Press Secretary, Hon. Ateny Wek Ateny, accusing the NDSC of overstepping its mandate. 
This Review analyzes this debate and provides policy perspectives on how the leadership and the country can actually benefit from the ND's resolutions. In our previous review, we recommended that the National Dialogue Resolutions Implementation Committee (NDRIC) be instituted to guide the government in implementing the ND's resolutions. We build on that recommendation here by re-emphasizing the significance of the ND's public pronouncements to the country's current peace process. 
Augustino Ting Mayai's Biography
Augustino Ting Mayai is the Director of Research at the Sudd Institute. He holds a Ph.D. in Sociology, with concentrations on demography and development from the University of Wisconsin-Madison. He currently studies how state effectiveness affects child health outcomes in South Sudan and Ethiopia. Dr. Mayai has written extensively on South Sudan's current affairs.