COVID-19 and the Political Transition in South Sudan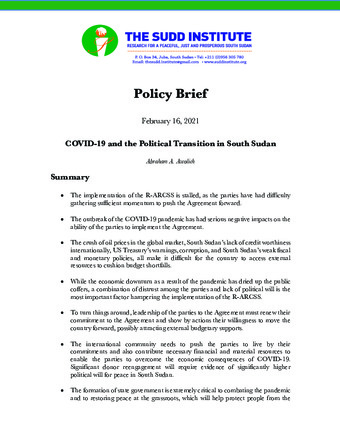 Author: Abraham Awolich
Type: Policy Briefs
Date: 16/02/2021
Publication Summary
The implementation of the R-ARCSS is stalled, as the parties have had difficulty gathering sufficient momentum to push the Agreement forward. 
The outbreak of the COVID-19 pandemic has had serious negative impacts on the ability of the parties to implement the Agreement.
The crush of oil prices in the global market, South Sudan's lack of credit worthiness internationally, US Treasury's warnings, corruption, and South Sudan's weak fiscal and monetary policies, all make it difficult for the country to access external resources to cushion budget shortfalls.
While the economic downturn as a result of the pandemic has dried up the public coffers, a combination of distrust among the parties and lack of political will is the most important factor hampering the implementation of the R-ARCSS.
To turn things around, leadership of the parties to the Agreement must renew their commitment to the Agreement and show by actions their willingness to move the country forward, possibly attracting external budgetary supports.
The international community needs to push the parties to live by their commitments and also contribute necessary financial and material resources to enable the parties to overcome the economic consequences of COVID-19.  Significant donor reengagement will require evidence of significantly higher political will for peace in South Sudan.  
The formation of state government is extremely critical to combating the pandemic and to restoring peace at the grassroots, which will help protect people from the virus and reduce cattle raiding and communal violence. Recent developments toward this issue are commendable.
Provisions aimed at returning to democracy and good governance such as election and constitutional making processes should be expedited and started early so as to build confidence in this transition. The parties to the Agreement blame current deficits in democracy and governance on COVID-19.  
Should the parties fail to implement governance protocols fully, the potential for national elections to be conducted will have been thwarted, risking a return to an all-out war.
Abraham Awolich is the Managing Director of the Sudd Institute. Awolich's research has focused on management of development organizations working in conflict mitigation, governance and business management. Awolich is the co-founder of the Sudan Development Foundation and the former Executive Director of New Sudan Education Initiative (NESEI). Previous to joining the Sudd Institute, Awolich helped establish a secondary school in Yei and a medical clinic in Kalthok, Awerial County. Awolich has a Master's Degree in Pubic Administration from the Maxwell School of Citizenship and Public Affairs at Syracuse University and Bachelor's Degree from the University of Vermont in Anthropology and Business Administration. Awolich is a McNair Scholar and winner of the prestigious Samuel Huntington Public Service Award in 2006.