What lessons could be drawn from the Kenyan High Court judgement on BBI for constitutional consolidation in South Sudan?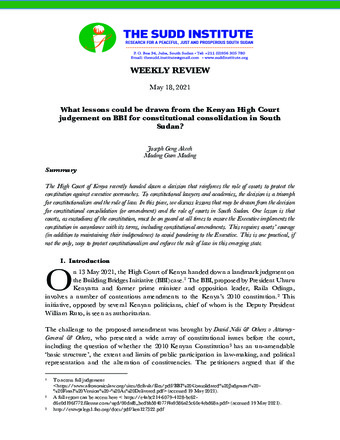 Authors: Mading Gum Mading, Joseph Geng Akech
Type: Weekly Reviews
Date: 18/05/2021
Publication Summary
The High Court of Kenya recently handed down a decision that reinforces the role of courts to protect the constitution against executive overreaches. To constitutional lawyers and academics, the decision is a triumph for constitutionalism and the rule of law. In this piece, we discuss lessons that may be drawn from the decision for constitutional consolidation (or amendment) and the role of courts in South Sudan. One lesson is that courts, as custodians of the constitution, must be on guard at all times to ensure the Executive implements the constitution in accordance with its terms, including constitutional amendments. This requires courts' courage (in addition to maintaining their independence) to avoid pandering to the Executive. This is one practical, if not the only, way to protect constitutionalism and enforce the rule of law in this emerging state.
Mading Gum is a constitutional lawyer and the managing partner for Mading & Co. Advocates. He is a law lecturer and head of Private Law Department at the School of Law of the University of Juba. He holds a Bachelor of Laws degree from the University of Juba, a Post-Graduate Diploma in Legal Practice from the Institute of Legal Practice and Development (ILPD, Rwanda), and a Master of Laws degree (LL.M) in Law, Governance and Democracy from the University of Nairobi School of Law. He is also a member of the South Sudan Bar Association.
Joseph Geng Akech is a passionate South Sudanese human rights lawyer. He holds Diploma in community development, (KISWCD, Kenya), Bachelor of Laws (BU, Uganda), LLM in human rights and democratisation in Africa, with distinction (Pretoria, South Africa) and PhD (doctoral) researcher on constitution building in fragile states. His research interests are in constitutional law, human rights, transitional justice and peace building. Joseph's doctoral research is entitled 'foreign influence and the legitimacy of constitution building in South Sudan' which interrogates international involvement and the legitimacy of resulting permanent constitution in the world's newest nation. Joseph has published numerous articles and chapters in books on constitutionalism and peacebuilding. He can be reached on josephgakech@gmail.com.