Will the Impact of the Pandemic on the Expected National Output Persist?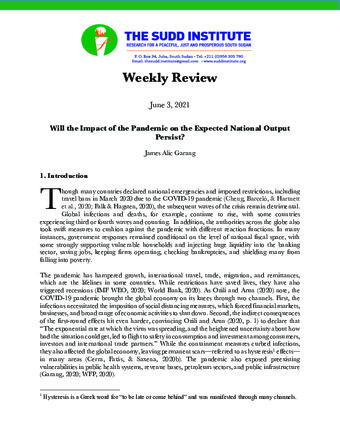 Author: James Alic Garang
Type: Weekly Reviews
Date: 03/06/2021
Publication Summary
This weekly review contributes to the debate on how the COVID-19 induced hysteresis effects could affect growth in South Sudan. It addresses two related questions: What channels would transmit the COVID-19 scarring effects to the output? What can public policy do to support recovery?
James Alic Garang is a co-founder and scholar at The Sudd Institute. His areas of interest include macroeconomics, development economics, financial sector, and financial inclusion. He has in the past participated in host of academic and professional undertakings, including internships at the African Development Bank in Tunisia (2009-2010), as a lead evaluator on the Banking Sector during the "Comprehensive Evaluation of the Government of South Sudan, 2006-2010", a consultant with the World Bank (2013-2014), and a board member serving on a number of charitable organizations and academic affiliations. A former McNair Scholar, and a member of Omicron Delta Epsilon, James holds a PhD in Economics from the University of Massachusetts, Amherst. A former Deputy Dean of Faculty of Economic & Social Studies at Upper Nile University and a Senior Economist with the Ebony Center for Strategic Studies, he is currently a Senior Advisor to the Executive Director at the IMF Executive Board in Washington, DC.