The Tragedy of the Unregulated: Why the Government should Reform the Charcoal Sector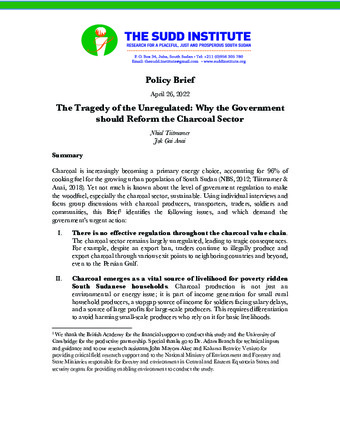 Authors: Jok Gai Anai, Nhial Tiitmamer
Organization: The Sudd Institute
Type: Policy Briefs
Date: 26/04/2022
Publication Summary
Charcoal is increasingly becoming a primary energy choice, accounting for 96% of cooking fuel for the growing urban population of South Sudan (NBS, 2012; Tiitmamer & Anai, 2018). Yet not much is known about the level of government regulation to make the woodfuel, especially the charcoal sector, sustainable. Using individual interviews and focus group discussions with charcoal producers, transporters, traders, soldiers and communities, this Brief identifies the following issues, and which demand the government's urgent action:   
I. There is no effective regulation throughout the charcoal value chain. The charcoal sector remains largely unregulated, leading to tragic consequences.  For example, despite an export ban, traders continue to illegally produce and export charcoal through various exit points to neighboring countries and beyond, even to the Persian Gulf. 
II. Charcoal emerges as a vital source of livelihood for poverty ridden South Sudanese households. charcoal production is not just an environmental or energy issue; it is part of income generation for small rural household producers, a stopgap source of income for soldiers facing salary delays, and a source of large profits for large-scale producers. This requires differentiation to avoid harming small-scale producers who rely on it for basic livelihoods. 
 III. The charcoal sector is militarized. Soldiers engage in both large- and small-scale charcoal production, transportation, and trade, and provide access for foreigners and other large-scale producers, sometime intimidating landowners, and communities, making the sector less accountable and difficult to regulate. 
 IV. There are harmful social and environment impacts of charcoal production and trade. Charcoal production has had considerable negative social and environmental impacts, including 1) clear-cutting of forests; 2) widespread uprooting of trees and burning of the roots; 3) cutting down and burning of old, socially valuable trees; and 4) losses of ecosystem services. 
 V. Land access for charcoal production generates conflicts. Charcoal production poses threats to communal cohesion and stability, as the way land is accessed to produce charcoal generates conflicts. Individuals connected to authorities, for example, annex pieces of communal land and lease it to foreigners to produce charcoal, while refusing to share the benefits with the community. These exclusive benefits are causing land disputes, for example, between clans in Lokiliri Payam and charcoal producers, triggering conflicts. 
Considering the above, a swift government intervention should consider the following: 
Enforce the charcoal export ban and strengthen enforcement mechanisms; 
Ban foreigners and soldiers from engaging in large-scale charcoal production and trade, and put in place mechanisms to produce and trade charcoal for domestic consumption only;
Introduce licensing for charcoal production and trade and ban cutting of certain tree species and clear cutting/uprooting;
Promote alternative sources of cooking energy such as gas;
Improve the welfare of the soldiers, including by indexing salaries to inflation and paying them well and on time; and
Strengthen governance institutions to manage the sector and ensure sustainability.
Jok Gai Anai is a visiting researcher at the Sudd Institute. He holds a Bachelor of Engineering in Electrical Engineering from the University of Victoria, British Columbia, Canada. Jok has spent 11 years working in areas of High Voltage Power Transmission Networks & Distribution for Infrastructure and Oil & Gas Projects, Hydro, Renewable Energy, and Entrepreneurship and is also interested in researching the role of energy in development of post conflict states, the case of South Sudan. He is Founder and CEO of Bomatek Electric Ltd (www.bomatekengineering.com), a local engineering firm operating in South Sudan since 2012.
Nhial Tiitmamer is the Director of the Environmental and Natural Resources Program at the Sudd Institute and a part-time lecturer at the University of Juba. Before joining The Sudd Institute in 2013, Nhial spent research and consulting stints at Arletta Environmental Consulting in Calgary and at the University of Alberta in Canada. Nhial holds a B.A. in Environmental Studies with a minor in English Literature from the University of Alberta's Augustana Campus and an M.Sc. in Sustainable Energy Development from the University of Calgary in Alberta, Canada. Nhial is the co-founder of the NewSudanVision.com and has extensively commented and written on issues about South Sudan and Sudan.