Building a Culture of Peace through Dialogue in South Sudan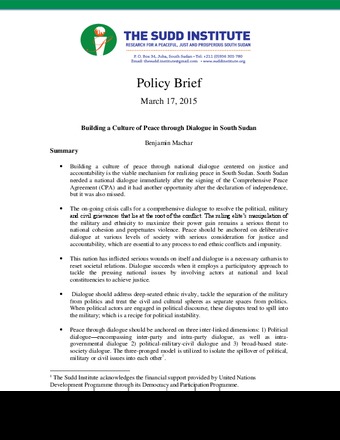 Author: Benjamin A. Machar
Organization: The Sudd Institute
Type: Policy Briefs
Date: 17/03/2015
Publication Summary
Building a culture of peace through national dialogue centered on justice and accountability is the viable mechanism for realizing peace in South Sudan. South Sudan needed a national dialogue immediately after the signing of the Comprehensive Peace Agreement (CPA) and it had another opportunity after the declaration of independence, but it was also missed.
The on-going crisis calls for a comprehensive dialogue to resolve the political, military and civil grievances that lie at the root of the conflict. The ruling elite's manipulation of the military and ethnicity to maximize their power gain remains a serious threat to national cohesion and perpetuates violence. Peace should be anchored on deliberative dialogue at various levels of society with serious consideration for justice and accountability, which are essential to any process to end ethnic conflicts and impunity. 
This nation has inflicted serious wounds on itself and dialogue is a necessary catharsis to reset societal relations. Dialogue succeeds when it employs a participatory approach to tackle the pressing national issues by involving actors at national and local constituencies to achieve justice.
 Dialogue should address deep-seated ethnic rivalry, tackle the separation of the military from politics and treat the civil and cultural spheres as separate spaces from politics. When political actors are engaged in political discourse, these disputes tend to spill into the military; which is a recipe for political instability.
Peace through dialogue should be anchored on three inter-linked dimensions: 1) Political dialogue—encompassing inter-party and intra-party dialogue, as well as intra-governmental dialogue 2) political-military-civil dialogue and 3) broad-based state-society dialogue. The three-pronged model is utilized to isolate the spillover of political, military or civil issues into each other.