Endless Presidential Summits and Negotiations in Addis Ababa: Can African Union Help South Sudan Resolve Post Independence Issues with Sudan?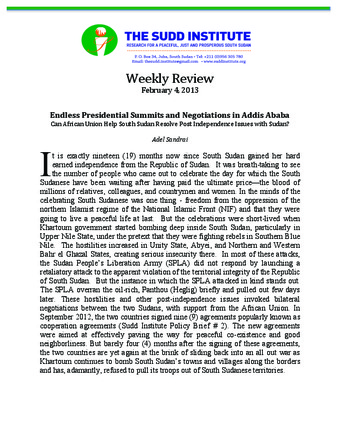 Author: Adel Sandrai
Organization: The Sudd Institute
Type: Weekly Reviews
Date: 06/02/2013
Publication Summary
After nineteen months of independence South Sudan is nowhere near resolving post independence issues with Sudan.  The cooperation agreements signed between the two countries in September 2012 have not been implemented due to pre-conditions that were not part of the terms of the signed agreements that Khartoum says must be met before the agreements could be implemented much to the disappointment of Juba.
The Sudd Institute this week reviews the stalled implementation of the African Union (AU) mediated cooperation agreements signed under the auspices of the African Union High Implementation Panel (AUHIP) headed by the former South African President Thabo Mbeki. The implementation of the cooperation agreements is necessary for the security of the two countries, their economic viability, and it goes a long way in making the two countries avoid going back to war.  The review will also examine the courses of actions that South Sudan needs to take in order to implement the cooperation agreements.