Food Security: A Matter Deserving National Discourse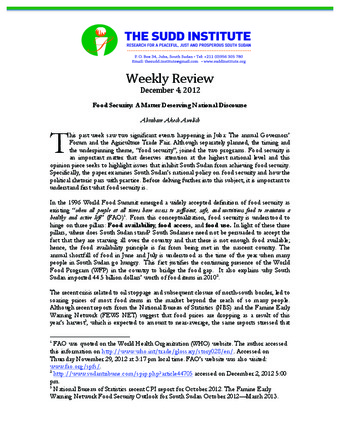 Author: Abraham Awolich
Organization: The Sudd Institute
Type: Weekly Reviews
Date: 04/12/2012
Publication Summary
This past week saw two significant events happening in Juba: The annual Governors' Forum and the Agriculture Trade Fair. Although separately planned, the timing and the underpinning theme, "food security", joined the two programs. Food security is an important matter that deserves attention at the highest national level and this opinion piece seeks to highlight issues that inhibit South Sudan from achieving food security.
This week, the Sudd Institute examines South Sudan's national policy on food security and how the political rhetoric pars with practice.
Abraham Awolich is the Managing Director of the Sudd Institute. Awolich's research has focused on management of development organizations working in conflict mitigation, governance and business management. Awolich is the co-founder of the Sudan Development Foundation and the former Executive Director of New Sudan Education Initiative (NESEI). Previous to joining the Sudd Institute, Awolich helped establish a secondary school in Yei and a medical clinic in Kalthok, Awerial County. Awolich has a Master's Degree in Pubic Administration from the Maxwell School of Citizenship and Public Affairs at Syracuse University and Bachelor's Degree from the University of Vermont in Anthropology and Business Administration. Awolich is a McNair Scholar and winner of the prestigious Samuel Huntington Public Service Award in 2006.