Juba's Insecurity: A Challenge to State Authority and Credibility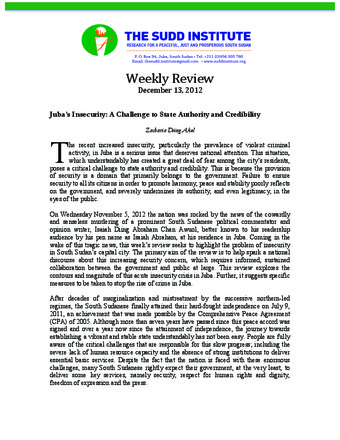 Author: Zacharia Diing Akol
Organization: The Sudd Institute
Type: Weekly Reviews
Date: 13/12/2012
Publication Summary
Last week, the nation was rocked by the news of the cowardice and senseless murdering of a prominent South Sudanese political commentator and opinion writer, Isaiah Diing Abraham Chan Awuol, better known to his readership audience by his pen name as Isaiah Abraham, on Wednesday, 5 November 2012 at his residence in the South Sudanese capital, Juba. Coming in the wake of this tragic news, this week's review of the Sudd Institute seeks to highlight the problem of insecurity in the town. The primary aim of the review is to help spark a national discourse on such an increasing security concern, which requires informed, sustained collaboration between the government and public at large. The review specifically and succinctly explores the contours and magnitude of this acute insecurity crisis in Juba. Further, it suggests specific measures to be taken in order to arrest this life-taking or rather unwelcome monster.
Zacharia Diing Akol's Biography
Zacharia Diing Akol is the Director of Training at the Sudd Institute. Diing has extensive experience in community outreach, government and organizational leadership. He is currently working on M.Res./Ph.D. in political science at the London School of Economics. Diing's research interests include the role of civil society organizations in peacebuilding, traditional leadership and democratic governance, post-conflict reconstruction, faith and public policy, and the dynamics of civil war.

Before co-founding the Sudd Institute Diing served as a consultant for the Government of South Sudan, evaluating parliamentary activities and government programs. He was also a Transitional Justice Fellow at the Institute for Justice and Reconciliation in Cape Town, South Africa, a Project Luke Fellow at the Overseas Ministries Studies Center in New Haven, Connecticut, USA. Diing has facilitated short courses on conflict resolution, peace building, leadership and administration in Grand Rapids, Michigan, USA, Malakal and Renk, South Sudan and given public lectures on Sudan and South Sudan at numerous universities across the United States.

Diing holds a Master's degree in Peace and Justice Studies from the University of San Diego and two Bachelor's degrees from Michigan State University in Public Policy & Administration and Policy & Applied Economics.