Lawlessness and Its Rule of Law Implications in South Sudan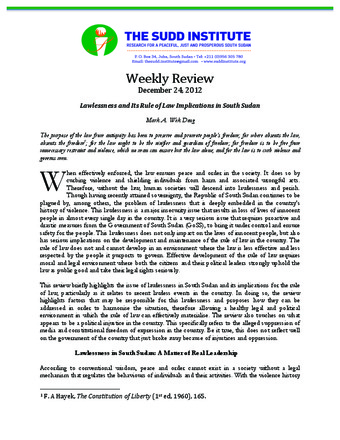 Author: Mark A. Wek Deng
Organization: The Sudd Institute
Type: Weekly Reviews
Date: 24/12/2012
Publication Summary
Though having recently attained sovereignty, the Republic of South Sudan continues to be plagued by, among others, the problem of lawlessness that is deeply embedded in the country's history of violence. This lawlessness is a major insecurity issue that results in loss of lives of innocent people in almost every single day in the country. It is a very serious issue that requires proactive and drastic measures from the Government of South Sudan (GoSS), to bring it under control and ensure safety for the people. This lawlessness does not only impact on the lives of innocent people, but also has serious implications on the development and maintenance of the rule of law in the country. The rule of law does not and cannot develop in an environment where the law is less effective and less respected by the people it purports to govern. Effective development of the rule of law requires moral and legal environment where both the citizens and their political leaders strongly uphold the law as public good and take their legal rights seriously.
This review briefly highlights the issue of lawlessness in South Sudan and its implications for the rule of law, particularly as it relates to recent lawless events in the country.
Mark Atem Wek Deng is an Australian admitted South Sudanese lawyer. He is a Ph.D. Candidate at the University of Queensland, Australia. His research looks at constitution building processes in post-conflict societies, focusing particularly on South Sudan. In particular, he investigates political philosophy and the advancement of the rule of law and constitutionalism.