Peace-building in South Sudan through the Design and Implementation of Coherent and Integrated Youth Development Policy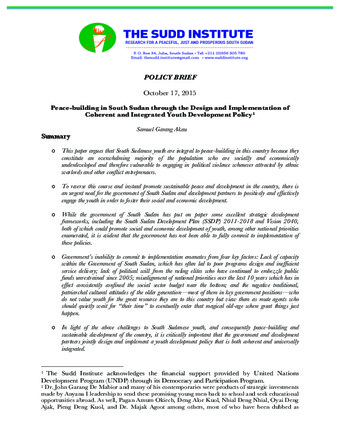 Author: Samuel Garang Akau
Organization: The Sudd Institute
Type: Policy Briefs
Date: 17/10/2015
Publication Summary
This paper argues that South Sudanese youth are integral to peace-building in this country because they constitute an overwhelming majority of the population who are socially and economically underdeveloped and therefore vulnerable to engaging in political violence whenever attracted by ethnic warlords and other conflict entrepreneurs.
To reverse this course and instead promote sustainable peace and development in the country, there is an urgent need for the government of South Sudan and development partners to positively and effectively engage the youth in order to foster their social and economic development.
While the government of South Sudan has put on paper some excellent strategic development frameworks, including the South Sudan Development Plan (SSDP) 2011-2018 and Vision 2040, both of which could promote social and economic development of youth, among other national priorities enumerated, it is evident that the government has not been able to fully commit to implementation of these policies.  
Government's inability to commit to implementation emanates from four key factors: Lack of capacity within the Government of South Sudan, which has often led to poor programs design and inefficient service delivery; lack of political will from the ruling elites who have continued to embezzle public funds unrestrained since 2005; misalignment of national priorities over the last 10 years which has in effect consistently confined the social sector budget near the bottom; and the negative traditional, patriarchal cultural attitudes of the older generation—most of them in key government positions—who do not value youth for the great resource they are to this country but view them as mute agents who should quietly wait for "their time" to eventually enter that magical old-age where great things just happen.  
In light of the above challenges to South Sudanese youth, and consequently peace-building and sustainable development of the country, it is critically important that the government and development partners jointly design and implement a youth development policy that is both coherent and universally integrated.