Police Service and Law Enforcement in South Sudan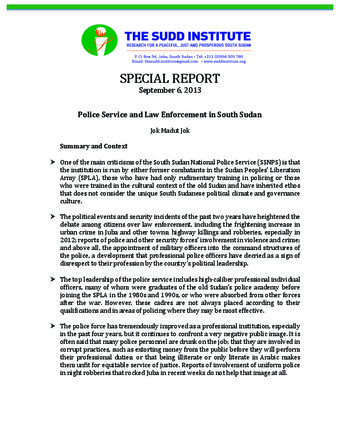 Author: Jok Madut Jok
Organization: The Sudd Institute
Type: Special Reports
Date: 06/09/2013
Publication Summary
South Sudan has been engaged in a daunting endeavor to build institutions of security, justice and national defense. In addition to decades of cataclysmic conflict with what is now the Republic of Sudan, the new state of South Sudan has had to face tensions within itself. Some of these date from the long liberation wars and have been exacerbated by the increasingly slow pace of development, inequitable distribution of services and the weak capacity of personnel. Liberation has also left a legacy of political tensions within the top leadership that have created what seems to be a shrinking political space for ordinary citizens. Even as there is no policy to suppress expression of opinion, many of the country's citizens complain that the police frequently disregard their basic rights, often treat people unconstitutionally and this has worsened the situation with regards to citizen's ability to comment on the affairs of their country.
The cumulative effect of South Sudan's liberation history is widespread insecurity as well as weakness in the institutions tasked with providing protection. This report focuses on interventions aiming at security promotion, specifically looking at the South Sudan National Police Service (SSNPS). The point of departure for the research is the structure of police organization, professional conduct, police-community relations, the national police and security policy, initiatives to control firearms and the violent crime associated with them. The paper reviews the basic requirements for selecting police officers and highlights the debate about the police force's unflattering public image and force members' reactions to a barrage of accusations that it has failed in its duties. The conclusion makes a number of policy recommendations for how to improve the conditions under which the police operates, how the institutions of security and justice can be best coordinated, and above all, how the police can best manage their relations with the communities they serve and create an image that truly reflects the ethics of the institution and the struggles it confronts in ensuring the protection of life and property and upholding the law under daunting circumstances.
Jok Madut Jok is trained in the anthropology of health and holds a Ph.D. from the University of California, Los Angeles (UCLA). He is a fellow of Rift Valley Institute and Director of the Sudd Institute. Jok has held fellowship positions at a number of other institutions, including the United States Institute of Peace and the Woodrow Wilson International Center for Scholars. He also served in the Government of South Sudan as undersecretary in the Ministry of Culture and Heritage for three years. He has also worked in aid and development and author of four books and numerous articles covering gender, sexuality and reproductive health, humanitarian aid, ethnography of political violence, gender-based violence, war and slavery, and the politics of identity in South Sudan and Sudan. His book Breaking Sudan: The Search for Peace, was published in 2017 by OneWorld.