South Sudan's Crisis: A UN Trusteeship or Joint Administration is Outlandish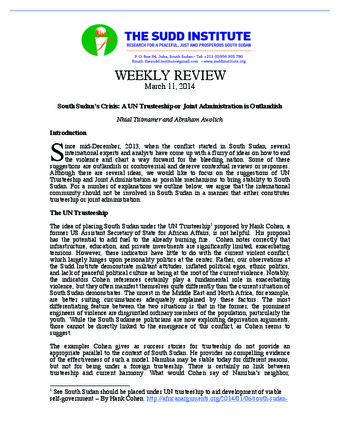 Authors: Abraham Awolich, Nhial Tiitmamer
Organization: The Sudd Institute
Type: Weekly Reviews
Date: 11/03/2014
Publication Summary
Since mid-December, 2013, when the conflict started in South Sudan, several international experts and analysts have come up with a flurry of ideas on how to end the violence and chart a way forward for the bleeding nation. Some of these suggestions are outlandish or controversial and deserve contextual reviews or responses. Although there are several ideas, we would like to focus on the suggestions of UN Trusteeship and Joint Administration as possible mechanisms to bring stability to South Sudan. For a number of explanations we outline below, we argue that the international community should not be involved in South Sudan in a manner that either constitutes trusteeship or joint administration.
Abraham Awolich is the Director of Administration and Finance at the Sudd Institute. Awolich's research has focused on management of development organizations working in conflict mitigation, governance and business management. Awolich is the co-founder of the Sudan Development Foundation and the former Executive Director of New Sudan Education Initiative (NESEI). Previous to joining the Sudd Institute, Awolich helped establish a secondary school in Yei and a medical clinic in Kalthok, Awerial County. Awolich has a Master's Degree in Pubic Administration from the Maxwell School of Citizenship and Public Affairs at Syracuse University and Bachelor's Degree from the University of Vermont in Anthropology and Business Administration. Awolich is a McNair Scholar and winner of the prestigious Samuel Huntington Public Service Award in 2006.
Nhial Tiitmamer is Programme Manager for environmental, energy and natural resources research and as well the Institute's Focal Point on Building Resilience and Adaptation to Climate Extremes and Disasters (BRACED), a climate change resilience programme being implemented in South Sudan by a consortium composed of The Sudd Institute and five international organizations. Nhial holds a Bachelor's Degree and a Master of Science in Environmental Studies and Sustainable Energy from the Universities of Alberta and Calgary in Canada where he spent stints as an environmental consultant and research associate in environmental studies. Nhial is the co-founder of the NewSudanVision.com and has extensively commented and written on issues about South Sudan.