South Sudan's National Identity Challenge: The Interplay between Fragmented Social Structure and Elite's Negative Role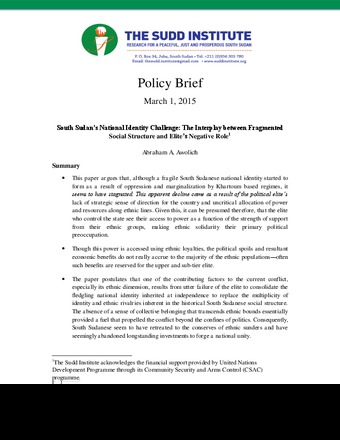 Author: Abraham Awolich
Organization: The Sudd Institute
Type: Policy Briefs
Date: 01/03/2015
Publication Summary
This paper argues that, although a fragile South Sudanese national identity started to form as a result of oppression and marginalization by Khartoum based regimes, it seems to have stagnated. This apparent decline came as a result of the political elite's lack of strategic sense of direction for the country and uncritical allocation of power and resources along ethnic lines. Given this, it can be presumed therefore, that the elite who control the state see their access to power as a function of the strength of support from their ethnic groups, making ethnic solidarity their primary political preoccupation.
Though this power is accessed using ethnic loyalties, the political spoils and resultant economic benefits do not really accrue to the majority of the ethnic populations—often such benefits are reserved for the upper and sub-tier elite.
The paper postulates that one of the contributing factors to the current conflict, especially its ethnic dimension, results from utter failure of the elite to consolidate the fledgling national identity inherited at independence to replace the multiplicity of identity and ethnic rivalries inherent in the historical South Sudanese social structure. The absence of a sense of collective belonging that transcends ethnic bounds essentially provided a fuel that propelled the conflict beyond the confines of politics. Consequently, South Sudanese seem to have retreated to the conserves of ethnic sunders and have seemingly abandoned longstanding investments to forge a national unity.
The current crisis provides a critical opportunity to renegotiate and reconstitute the state on a new basis, which has the potential to see an end to this spiraling decline of state legitimacy.
To do so would reinvigorate South Sudan's national identity and help return the country to a more solid union and development path it needs.
Abraham Awolich is the Managing Director of the Sudd Institute. Awolich's research has focused on management of development organizations working in conflict mitigation, governance and business management. Awolich is the co-founder of the Sudan Development Foundation and the former Executive Director of New Sudan Education Initiative (NESEI). Previous to joining the Sudd Institute, Awolich helped establish a secondary school in Yei and a medical clinic in Kalthok, Awerial County. Awolich has a Master's Degree in Pubic Administration from the Maxwell School of Citizenship and Public Affairs at Syracuse University and Bachelor's Degree from the University of Vermont in Anthropology and Business Administration. Awolich is a McNair Scholar and winner of the prestigious Samuel Huntington Public Service Award in 2006.