South Sudan's Violence: The Health Implications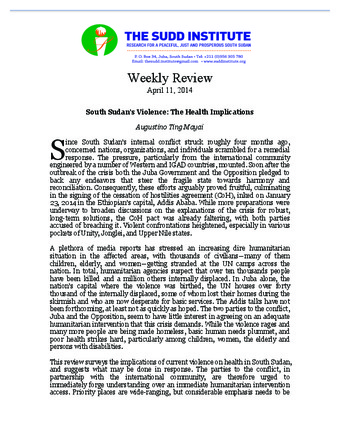 Author: Augustino Ting Mayai
Organization: The Sudd Institute
Type: Weekly Reviews
Date: 11/04/2014
Publication Summary
Since South Sudan's internal conflict struck roughly four months ago, concerned nations, organizations, and individuals scrambled for a remedial response. The pressure, particularly from the international community engineered by a number of Western and IGAD countries, mounted. Soon after the outbreak of the crisis both the Juba Government and the Opposition pledged to back any endeavors that steer the fragile state towards harmony and reconciliation. Consequently, these efforts arguably proved fruitful, culminating in the signing of the cessation of hostilities agreement (CoH), inked on January 23, 2014 in the Ethiopian's capital, Addis Ababa. While more preparations were underway to broaden discussions on the explanations of the crisis for robust, long-term solutions, the CoH pact was already faltering, with both parties accused of breaching it. Violent confrontations heightened, especially in various pockets of Unity, Jonglei, and Upper Nile states.
This review surveys the implications of current violence on health in South Sudan, and suggests what may be done in response. The parties to the conflict, in partnership with the international community, are therefore urged to immediately forge understanding over an immediate humanitarian intervention access. Priority places are wide-ranging, but considerable emphasis needs to be placed upon Upper Nile region where the violence has been raging for the last few months. Similarly, this review suggests that the situation of the internally displaced persons in Juba requires a unique solution comprising a combination of locally improved security situation and compensation for those who lost their homes to the violence.
Augustino Ting Mayai's Biography
Augustino Ting Mayai is the Director of Research at the Sudd Institute. He holds a Ph.D. in Sociology, with concentrations on demography and development from the University of Wisconsin-Madison. He currently studies how state effectiveness affects child health outcomes in South Sudan and Ethiopia. Dr. Mayai has written extensively on South Sudan's current affairs.