South Sudanese in Utah are a Sign of Hope and Peace in South Sudan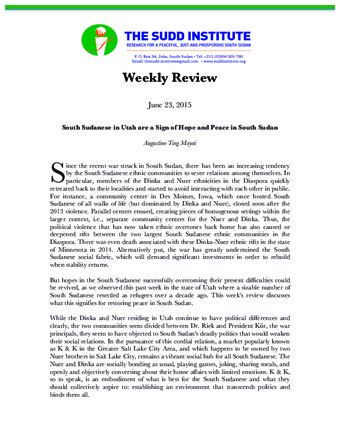 Author: Augustino Ting Mayai
Organization: The Sudd Institute
Type: Weekly Reviews
Date: 23/06/2015
Publication Summary
Since the recent war struck in South Sudan, there has been an increasing tendency by the South Sudanese ethnic communities to sever relations among themselves. In particular, members of the Dinka and Nuer ethnicities in the Diaspora quickly retreated back to their localities and started to avoid interacting with each other in public. For instance, a community center in Des Moines, Iowa, which once hosted South Sudanese of all walks of life (but dominated by Dinka and Nuer), closed soon after the 2013 violence. Parallel centers ensued, creating pieces of homogenous settings within the larger context, i.e., separate community centers for the Nuer and Dinka. Thus, the political violence that has now taken ethnic overtones back home has also caused or deepened rifts between the two largest South Sudanese ethnic communities in the Diaspora. There was even death associated with these Dinka-Nuer ethnic rifts in the state of Minnesota in 2014. Alternatively put, the war has greatly undermined the South Sudanese social fabric, which will demand significant investments in order to rebuild when stability returns.
But hopes in the South Sudanese successfully overcoming their present difficulties could be revived, as we observed this past week in the state of Utah where a sizable number of South Sudanese resettled as refugees over a decade ago. This week's review discusses what this signifies for restoring peace in South Sudan. 
Augustino Ting Mayai's Biography
Augustino Ting Mayai is the Director of Research at the Sudd Institute. He holds a Ph.D. in Sociology, with concentrations on demography and development from the University of Wisconsin-Madison. He currently studies how state effectiveness affects child health outcomes in South Sudan and Ethiopia. Dr. Mayai has written extensively on South Sudan's current affairs.