Sudanese Refugee Influx into South Sudan: Security and Bilateral Relations Implications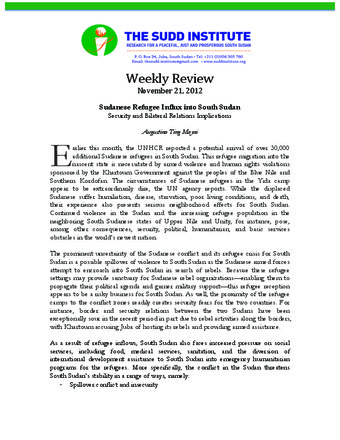 Author: Augustino Ting Mayai
Organization: The Sudd Institute
Type: Weekly Reviews
Date: 21/11/2012
Publication Summary
The circumstances of Sudanese refugees in the Yida camp appear to be extraordinarily dire, the UN agency reports. While the displaced Sudanese suffer humiliation, disease, starvation, poor living conditions, and death, their experience also presents serious neighborhood effects for South Sudan. Continued violence in the Sudan and the increasing refugee population in the neighboring South Sudanese states of Upper Nile and Unity, for instance, pose, among other consequences, security, political, humanitarian, and basic services obstacles in the world's newest nation.

This week, the Sudd Institute reviews these consequences and provides remedial suggestions for future viability of the two Sudans. 
Augustino Ting Mayai's Biography
Augustino Ting Mayai is the Director of Research at the Sudd Institute. He holds a Ph.D. in Sociology, with concentrations on demography and development from the University of Wisconsin-Madison. He currently studies how state effectiveness affects child health outcomes in South Sudan and Ethiopia. Dr. Mayai has written extensively on South Sudan's current affairs.