The Challenge of Constitutionalism and Separation of Powers Doctrine in South Sudan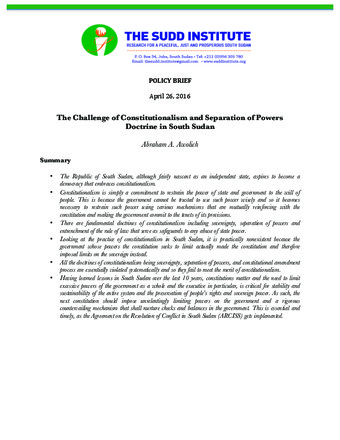 Author: Abraham Awolich
Organization: The Sudd Institute
Type: Policy Briefs
Date: 26/04/2016
Publication Summary
The Republic of South Sudan, although fairly nascent as an independent state, aspires to become a democracy that embraces constitutionalism.
Constitutionalism is simply a commitment to restrain the power of state and government to the will of people. This is because the government cannot be trusted to use such power wisely and so it becomes necessary to restrain such power using various mechanics that are mutually reinforcing with the constitution and making the government commit to the tenets of its provisions.
There are fundamental doctrines of constitutionalism including sovereignty, separation of powers and entrenchment of the rule of law that serve as safeguards to any abuse of state power.
Looking at the practice of constitutionalism in South Sudan, it is practically nonexistent because the government whose powers the constitution seeks to limit actually made the constitution and therefore imposed limits on the sovereign instead.
All the doctrines of constitutionalism being sovereignty, separation of powers, and constitutional amendment process are essentially violated systematically and so they fail to meet the merit of constitutionalism.
Having learned these lessons over the last 10 years, constitutions matter and the need to limit excessive powers of the government as a whole and the executive in particular, is critical for the sustainability of the entire system and the preservation of people's rights and sovereign power. As such, the next constitution should impose unrelentingly limiting powers on the government and a rigorous countervailing mechanism that shall nurture checks and balances in the government. This is essential and timely, as the Agreement on the Resolution of Conflict in South Sudan (ARCISS) gets implemented. 
Abraham Awolich is the Managing Director of the Sudd Institute. Awolich's research has focused on management of development organizations working in conflict mitigation, governance and business management. Awolich is the co-founder of the Sudan Development Foundation and the former Executive Director of New Sudan Education Initiative (NESEI). Previous to joining the Sudd Institute, Awolich helped establish a secondary school in Yei and a medical clinic in Kalthok, Awerial County. Awolich has a Master's Degree in Pubic Administration from the Maxwell School of Citizenship and Public Affairs at Syracuse University and Bachelor's Degree from the University of Vermont in Anthropology and Business Administration. Awolich is a McNair Scholar and winner of the prestigious Samuel Huntington Public Service Award in 2006.