The Mediation Pendulum and the Challenges that Underlie the Peace Implementation in South Sudan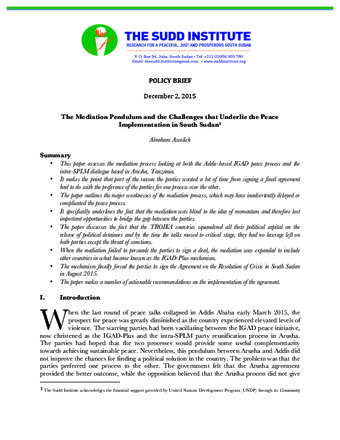 Author: Abraham Awolich
Organization: The Sudd Institute
Type: Policy Briefs
Date: 02/12/2015
Publication Summary
This paper assesses the mediation process looking at both the Addis-based IGAD peace process and the intra-SPLM dialogue based in Arusha, Tanzania.
It makes the point that part of the reason the parties wasted a lot of time from signing a final agreement had to do with the preference of the parties for one process over the other.
The paper outlines the major weaknesses of the mediation process, which may have inadvertently delayed or complicated the peace process.
It specifically underlines the fact that the mediation was blind to the idea of momentum and therefore lost important opportunities to bridge the gap between the parties.
The paper discusses the fact that the TROIKA countries squandered all their political capital on the release of political detainees and by the time the talks moved to critical stage, they had no leverage left on both parties except the threat of sanctions.
When the mediation failed to persuade the parties to sign a deal, the mediation was expanded to include other countries in what became known as the IGAD-Plus mechanism.
The mechanism finally forced the parties to sign the Agreement on the Resolution of Crisis in South Sudan in August 2015.
The paper makes a number of actionable recommendations on the implementation of the agreement.
Abraham Awolich is the Managing Director of the Sudd Institute. Awolich's research has focused on management of development organizations working in conflict mitigation, governance and business management. Awolich is the co-founder of the Sudan Development Foundation and the former Executive Director of New Sudan Education Initiative (NESEI). Previous to joining the Sudd Institute, Awolich helped establish a secondary school in Yei and a medical clinic in Kalthok, Awerial County. Awolich has a Master's Degree in Pubic Administration from the Maxwell School of Citizenship and Public Affairs at Syracuse University and Bachelor's Degree from the University of Vermont in Anthropology and Business Administration. Awolich is a McNair Scholar and winner of the prestigious Samuel Huntington Public Service Award in 2006.