The Release of South Sudan's Political Detainees and the Prospects for Peace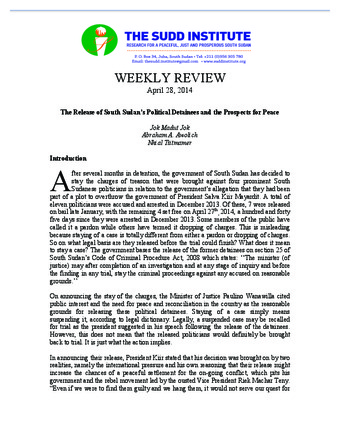 Authors: Abraham Awolich, Jok Madut Jok, Nhial Tiitmamer
Organization: The Sudd Institute
Type: Weekly Reviews
Date: 28/04/2014
Publication Summary
After several months in detention, the government of South Sudan has decided to stay the charges of treason that were brought against four prominent South Sudanese politicians in relation to the government's allegation that they had been part of a plot to overthrow the government of President Salva Kiir Mayardit. A total of eleven politicians were accused and arrested in December 2013. Of these, 7 were released on bail late January, with the remaining 4 set free on April 27th, 2014, a hundred and forty five days since they were arrested in December 2013. Some members of the public have called it a pardon while others have termed it dropping of charges. This is misleading because staying of a case is totally different from either a pardon or dropping of charges. So on what legal basis are they released before the trial could finish? What does it mean to stay a case? The government bases the release of the former detainees on section 25 of South Sudan's Code of Criminal Procedure Act, 2008 which states: ''The minister (of justice) may after completion of an investigation and at any stage of inquiry and before the finding in any trial, stay the criminal proceedings against any accused on reasonable grounds.''
In announcing their release, President Kiir stated that his decision was brought on by two realities, namely the international pressure and his own reasoning that their release might increase the chances of a peaceful settlement for the on-going conflict, which pits his government and the rebel movement led by the ousted Vice President Riek Machar Teny. "Even if we were to find them guilty and we hang them, it would not serve our quest for peace…this way is better," the President declared. The release of detainees has been one of the key demands made by the rebel movement as crucial to a peaceful dialogue.
The Sudd Institute joins the rest of South Sudanese to celebrate this decision, as it was only just and fair that these gentlemen were freed. The long incarceration of Pagan Amum Okiech, former Secretary General of the ruling Sudan People's Liberation Army (SPLM), Oyai Deng Ajak, former Minister for National Security, Majak Agoot Atem, former Deputy Minister of Defense, and Ezekiel Lul Gatkuath, former head of the South Sudan Liaison Office in the United States, had weighed heavily on the conscience of the nation. The legality of their detention, the long period they had spent in jail before their trial begun and procedures followed, were questionable by standards of the laws of South Sudan and the international statutes. What is even more commendable is that the justice system has shown its ability to be transparent and independent, indeed a development we must all applaud and encourage as a trend that our country could promote.
Abraham Awolich is the Director of Administration and Finance at the Sudd Institute. Awolich's research has focused on management of development organizations working in conflict mitigation, governance and business management. Awolich is the co-founder of the Sudan Development Foundation and the former Executive Director of New Sudan Education Initiative (NESEI). Previous to joining the Sudd Institute, Awolich helped establish a secondary school in Yei and a medical clinic in Kalthok, Awerial County. Awolich has a Master's Degree in Pubic Administration from the Maxwell School of Citizenship and Public Affairs at Syracuse University and Bachelor's Degree from the University of Vermont in Anthropology and Business Administration. Awolich is a McNair Scholar and winner of the prestigious Samuel Huntington Public Service Award in 2006.
Jok Madut Jok is trained in the anthropology of health and holds a Ph.D. from the University of California, Los Angeles (UCLA). He is a fellow of Rift Valley Institute and Director of the Sudd Institute. Jok has held fellowship positions at a number of other institutions, including the United States Institute of Peace and the Woodrow Wilson International Center for Scholars. He also served in the Government of South Sudan as undersecretary in the Ministry of Culture and Heritage for three years. He has also worked in aid and development and author of four books and numerous articles covering gender, sexuality and reproductive health, humanitarian aid, ethnography of political violence, gender-based violence, war and slavery, and the politics of identity in South Sudan and Sudan. His book Breaking Sudan: The Search for Peace, was published in 2017 by OneWorld.
Nhial Tiitmamer is Programme Manager for environmental, energy and natural resources research and as well the Institute's Focal Point on Building Resilience and Adaptation to Climate Extremes and Disasters (BRACED), a climate change resilience programme being implemented in South Sudan by a consortium composed of The Sudd Institute and five international organizations. Nhial holds a Bachelor's Degree and a Master of Science in Environmental Studies and Sustainable Energy from the Universities of Alberta and Calgary in Canada where he spent stints as an environmental consultant and research associate in environmental studies. Nhial is the co-founder of the NewSudanVision.com and has extensively commented and written on issues about South Sudan.