Unity State Leads in Lean Government Model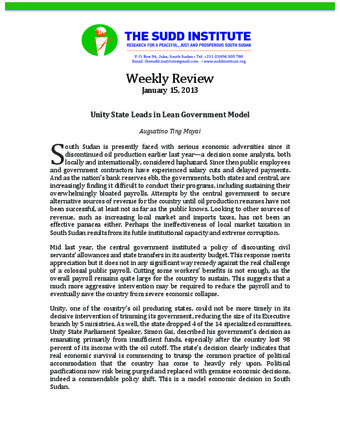 Author: Augustino Ting Mayai
Organization: The Sudd Institute
Type: Weekly Reviews
Date: 18/01/2013
Publication Summary
South Sudan is presently faced with serious economic adversities since it discontinued oil production earlier last year—a decision some analysts, both locally and internationally, considered haphazard. Since then public employees and government contractors have experienced salary cuts and delayed payments. And as the nation's bank reserves ebb, the governments, both states and central, are increasingly finding it difficult to conduct their programs, including sustaining their overwhelmingly bloated payrolls. Attempts by the central government to secure alternative sources of revenue for the country until oil production resumes have not been successful, at least not as far as the public knows. Looking to other sources of revenue, such as increasing local market and imports taxes, has not been an effective panacea either. Perhaps the ineffectiveness of local market taxation in South Sudan results from its futile institutional capacity and extreme corruption.

Mid last year, the central government instituted a policy of discounting civil servants' allowances and state transfers in its austerity budget. This response merits appreciation but it does not in any significant way remedy against the real challenge of a colossal public payroll. Cutting some workers' benefits is not enough, as the overall payroll remains quite large for the country to sustain. This suggests that a much more aggressive intervention may be required to reduce the payroll and to eventually save the country from severe economic collapse. 

Unity, one of the country's oil producing states, could not be more timely in its decisive intervention of trimming its government, reducing the size of its Executive branch by 5 ministries. As well, the state dropped 4 of the 14 specialized committees. Unity State Parliament Speaker, Simon Gai, described his government's decision as emanating primarily from insufficient funds, especially after the country lost 98 percent of its income with the oil cutoff. The state's decision clearly indicates that real economic survival is commencing to trump the common practice of political accommodation that the country has come to heavily rely upon. Political pacifications now risk being purged and replaced with genuine economic decisions, indeed a commendable policy shift. This is a model economic decision in South Sudan.

In line with Unity State's decision the Sudd Institute agrees that pragmatic trimming of government institutions across the board in South Sudan will have positive consequences. The central government comprises 29 ministries and about 18 commissions, excluding parliament and the judiciary. Each of the ten states has around 20 institutions, including commissions. The central government employs over 200,000 workers, excluding the SPLA. The ten states employ approximately 200,000 additional workers, all paid through the nation's ministry of finance. Salaries represent a vast proportion of the government's annual budgets, leaving a small fraction for capital investment, projects, and basic services. This is unsustainable for a country that endeavors to foster growth while in a fragile economic state.

Maintaining the status quo under barely reliable and available income hampers the country's development and service delivery efforts. The necessity to rechannel the limited resources to meet the country's development and service delivery challenges while the oil production is stalled calls for a robust response from the government as could be learned from Unity State. Reducing the government's size strengthens development and service delivery programs through increased funding, especially if the budget is re-appropriated. With a reasonably trimmed government, it is also conceivable to improve workers' quality using merit-based recruitment. In addition, the size of the government affects incentives and efficiency both for the programs and individual employees. So, the proposition to reduce the governments, both in Juba and the ten states is not only economically essential, it is also an administrative concern since having an efficient workforce is particularly critical in producing meaningful results.

While undertaking this exercise could come with a price, most of it formidable resistance from workers who do not want to lose their jobs, it remains practical and is the right thing to do. Most important, it is a sacrifice that the government and individual employees ought to make in order to save the nation from an economic downfall. But such exercise requires political will from the top, beginning with the President and the Parliaments. It also requires popular consultations and support, perhaps starting with a survey that is tailored toward ordinary citizenry's views on a lean government's installation.

Additional streamlining also means eliminating redundant institutions. For instance, education ministries, basic and higher, need combining. The presidency, comprising cabinet affairs, security, and presidential affairs could also be made one ministry, cabinet. A number of commissions may also be merged or dropped, depending on the importance of their mandates. Just recently, the office of the vice president announced a new commission created to help reconcile the population—this commission is called Reconciliation. Though reconciliation is an essential process in healing historically conflict-ravaged societies, it need not stand apart from an existing Peace Commission. That is, the last thing South Sudan's government should be doing at this economically challenging hour is bloating its payroll and bureaucracy. Instead, it needs to save and spend wisely every pound it gets. 

In a nutshell, a lean government is a necessity in South Sudan. It is a fundamentally effective response to the increasingly emerging challenges of limited funds to run the government and to deliver basic services. Similarly, downsizing the government has administrative incentives such as better-streamlined bureaucratic structures. This is where Unity State surfaces as exemplary, serving apparently as a kind of go-to-authority on this particular issue. However, all plans to reduce the government for a greater public benefit require a multi-stakeholder tactic, with the Juba government championing the mission.   
Augustino Ting Mayai's Biography
Augustino Ting Mayai is the Director of Research at the Sudd Institute. He holds a Ph.D. in Sociology, with concentrations on demography and development from the University of Wisconsin-Madison. He currently studies how state effectiveness affects child health outcomes in South Sudan and Ethiopia. Dr. Mayai has written extensively on South Sudan's current affairs.