Why Celebrating Tragedy should End: What the Incessant Violent Confrontations Mean for the Ordinary South Sudanese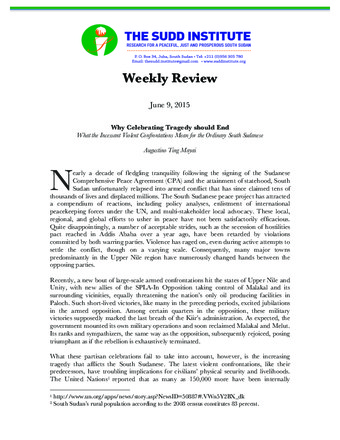 Author: Augustino Ting Mayai
Organization: The Sudd Institute
Type: Weekly Reviews
Date: 09/06/2015
Publication Summary
Recently, a new bout of large-scale armed confrontations hit the states of Upper Nile and Unity, with new allies of the SPLA-In Opposition taking control of Malakal and its surrounding vicinities, equally threatening the nation's only oil producing facilities in Paloch. Such short-lived victories, like many in the preceding periods, excited jubilations in the armed opposition. Among certain quarters in the armed opposition, these military victories supposedly marked the last breath of the Kiir's administration. As expected, the government mounted its own military operations and soon reclaimed Malakal and Melut. Its ranks and sympathizers, the same way as the opposition, subsequently rejoiced, posing triumphant as if the rebellion is exhaustively terminated.
What these partisan celebrations fail to take into account, however, is the increasing tragedy that afflicts the South Sudanese. The latest violent confrontations, like their predecessors, have troubling implications for civilians' physical security and livelihoods. The United Nations reported that as many as 150,000 more have been internally displaced by this recent violence.
Augustino Ting Mayai's Biography
Augustino Ting Mayai is the Director of Research at the Sudd Institute. He holds a Ph.D. in Sociology, with concentrations on demography and development from the University of Wisconsin-Madison. He currently studies how state effectiveness affects child health outcomes in South Sudan and Ethiopia. Dr. Mayai has written extensively on South Sudan's current affairs.