The Recent Change of Guards at the Ministry of Finance and Bank of South Sudan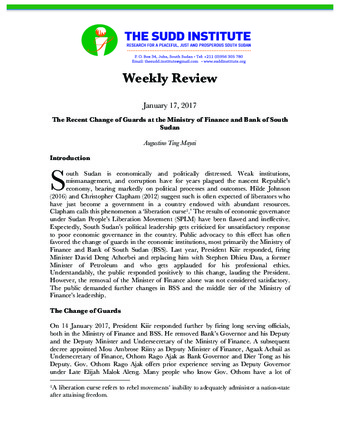 Author: Augustino Ting Mayai
Type: Weekly Reviews
Date: 17/01/2017
Publication Summary
South Sudan is economically and politically distressed. Weak institutions, mismanagement, and corruption have for years plagued the nascent Republic's economy, bearing markedly on political processes and outcomes. Hilde Johnson (2016) and Christopher Clapham (2012) suggest such is often expected of liberators who have just become a government in a country endowed with abundant resources. Clapham calls this phenomenon a 'liberation curse.' The results of economic governance under Sudan People's Liberation Movement (SPLM) have been flawed and ineffective. Expectedly, South Sudan's political leadership gets criticized for unsatisfactory response to poor economic governance in the country. Public advocacy to this effect has often favored the change of guards in the economic institutions, most primarily the Ministry of Finance and Bank of South Sudan (BSS). Last year, President Kiir responded, firing Minister David Deng Athorbei and replacing him with Stephen Dhieu Dau, a former Minister of Petroleum and who gets applauded for his professional ethics. Understandably, the public responded positively to this change, lauding the President. However, the removal of the Minister of Finance alone was not considered satisfactory. The public demanded further changes in BSS and the lower tiers of the Ministry of Finance's leadership.     
On 14 January 2017, President Kiir finally responded by firing long serving officials, both in the Ministry of Finance and BSS. He removed Bank's Governor and his deputy and the deputy minister and undersecretary of the Ministry of Finance. A subsequent decree appointed Mou Ambrose Riiny as deputy minister of finance, Agaak Achuil as undersecretary of finance, Othom Rago Ajak as Bank Governor and Dier Tong as his deputy. 
What does this new change of guards suggest? This weekly review analyzes this, focusing specifically on economic reforms implications. 
Augustino Ting Mayai's Biography
Augustino Ting Mayai is the Director of Research at the Sudd Institute. He holds a Ph.D. in Sociology, with concentrations on demography and development from the University of Wisconsin-Madison. He currently studies how state effectiveness affects child health outcomes in South Sudan and Ethiopia. Dr. Mayai has written extensively on South Sudan's current affairs.