Cholera: A New Threat to Health in South Sudan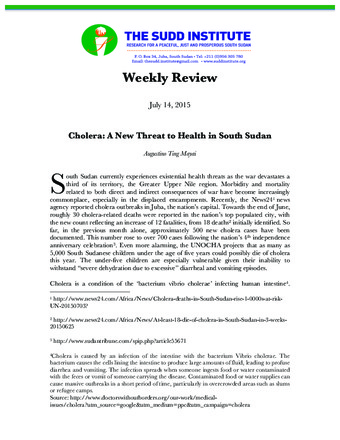 Author: Augustino Ting Mayai
Organization: The Sudd Institute
Type: Weekly Reviews
Date: 14/07/2015
Publication Summary
South Sudan currently experiences existential health threats as the war devastates a third of its territory, the Greater Upper Nile region. Morbidity and mortality related to both direct and indirect consequences of war have become increasingly commonplace, especially in the displaced encampments. Recently, the News24[1] news agency reported cholera outbreaks in Juba, the nation's capital. Towards the end of June, roughly 30 cholera-related deaths were reported in the nation's top populated city, with the new count reflecting an increase of 12 fatalities, from 18 deaths[2] initially identified. So far, in the previous month alone, approximately 500 new cholera cases have been documented. This number rose to over 700 cases following the nation's 4th independence anniversary celebration[3]. Even more alarming, the UNOCHA projects that as many as 5,000 South Sudanese children under the age of five years could possibly die of cholera this year. The under-five children are especially vulnerable given their inability to withstand "severe dehydration due to excessive" diarrheal and vomiting episodes.
Cholera is a condition of the 'bacterium vibrio cholerae' infecting human intestine[4]. Naturally, the health consequences of this infection are severe diarrhea and vomiting. The disease spreads via contaminated food and water. Thus, "contaminated food or water supplies can cause massive outbreaks in a short period of time, particularly in overcrowded areas such as slums or refugee camps". This definition reflects South Sudan's current experience in which overcrowded settings have been hit the hardest.
This weekly review analyses the new cholera outbreaks in South Sudan. Cholera is treacherous, posing a serious threat to an-already threatened human health in a volatile nation. This analysis essentially makes a conceptual relationship between health and war and governance. A concluding portion of the review offers some remedial opinions.
Augustino Ting Mayai's Biography
Augustino Ting Mayai is the Director of Research at the Sudd Institute. He holds a Ph.D. in Sociology, with concentrations on demography and development from the University of Wisconsin-Madison. He currently studies how state effectiveness affects child health outcomes in South Sudan and Ethiopia. Dr. Mayai has written extensively on South Sudan's current affairs.