The Impacts of Violence on Education in South Sudan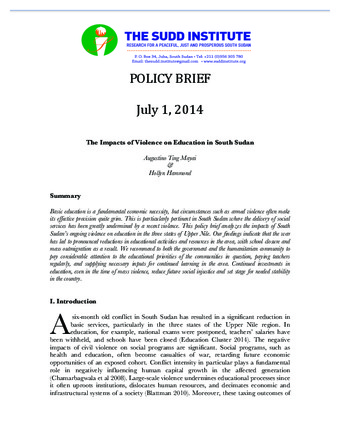 Authors: Hollyn Hammond, Augustino Ting Mayai
Organization: The Sudd Institute
Type: Policy Briefs
Date: 01/07/2014
Keyword(s): Education, South Sudan, Violence, Impacts
Publication Summary
Basic education is a fundamental economic necessity, but circumstances such as armed violence often make its effective provision quite grim. This is particularly pertinent in South Sudan where the delivery of social services has been greatly undermined by a recent violence. This policy brief analyzes the impacts of South Sudan's ongoing violence on education in the three states of Upper Nile. Our findings indicate that the war has led to pronounced reductions in educational activities and resources in the area, with school closure and mass outmigration as a result. We recommend to both the government and the humanitarian community to pay considerable attention to the educational priorities of the communities in question, paying teachers regularly, and supplying necessary inputs for continued learning in the area. Continued investments in education, even in the time of mass violence, reduce future social injustice and set stage for needed stability in the country.  
Augustino Ting Mayai's Biography
Augustino Ting Mayai is the Director of Research at the Sudd Institute. He holds a Ph.D. in Sociology, with concentrations on demography and development from the University of Wisconsin-Madison. He currently studies how state effectiveness affects child health outcomes in South Sudan and Ethiopia. Dr. Mayai has written extensively on South Sudan's current affairs.