What is South Sudan's Wisdom Courting Russia?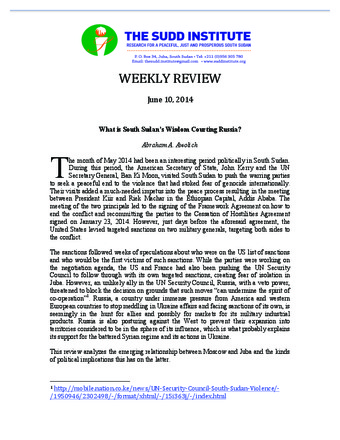 Author: Abraham Awolich
Organization: The Sudd Institute
Type: Weekly Reviews
Date: 10/06/2014
Publication Summary
The month of May 2014 had been an interesting period politically in South Sudan. During this period, the American Secretary of State, John Kerry and the UN Secretary General, Ban Ki Moon, visited South Sudan to push the warring parties to seek a peaceful end to the violence that had stoked fear of genocide internationally. Their visits added a much-needed impetus into the peace process resulting in the meeting between President Kiir and Riek Machar in the Ethiopian Capital, Addis Ababa. The meeting of the two principals led to the signing of the Framework Agreement on how to end the conflict and recommitting the parties to the Cessation of Hostilities Agreement signed on January 23, 2014. However, just days before the aforesaid agreement, the United States levied targeted sanctions on two military generals, targeting both sides to the conflict.
The sanctions followed weeks of speculations about who were on the US list of sanctions and who would be the first victims of such sanctions. While the parties were working on the negotiation agenda, the US and France had also been pushing the UN Security Council to follow through with its own targeted sanctions, creating fear of isolation in Juba. However, an unlikely ally in the UN Security Council, Russia, with a veto power, threatened to veto the move on grounds that such moves "can undermine the spirit of co-operation" . Russia, a country under immense pressure from America and western European countries to stop meddling in Ukraine affairs and facing sanctions of its own is seemingly in the hunt for allies and possibly for markets for its military industrial products. Russia is also posturing against the West to prevent their expansion into territories considered to be in the sphere of its influence, which is what probably explains its support for the battered Syrian regime and its actions in Ukraine.
This review analyzes the emerging relationship between Moscow and Juba and the kinds of political implications this has on the latter.
Abraham Awolich is the Managing Director of the Sudd Institute. Awolich's research has focused on management of development organizations working in conflict mitigation, governance and business management. Awolich is the co-founder of the Sudan Development Foundation and the former Executive Director of New Sudan Education Initiative (NESEI). Previous to joining the Sudd Institute, Awolich helped establish a secondary school in Yei and a medical clinic in Kalthok, Awerial County. Awolich has a Master's Degree in Pubic Administration from the Maxwell School of Citizenship and Public Affairs at Syracuse University and Bachelor's Degree from the University of Vermont in Anthropology and Business Administration. Awolich is a McNair Scholar and winner of the prestigious Samuel Huntington Public Service Award in 2006.